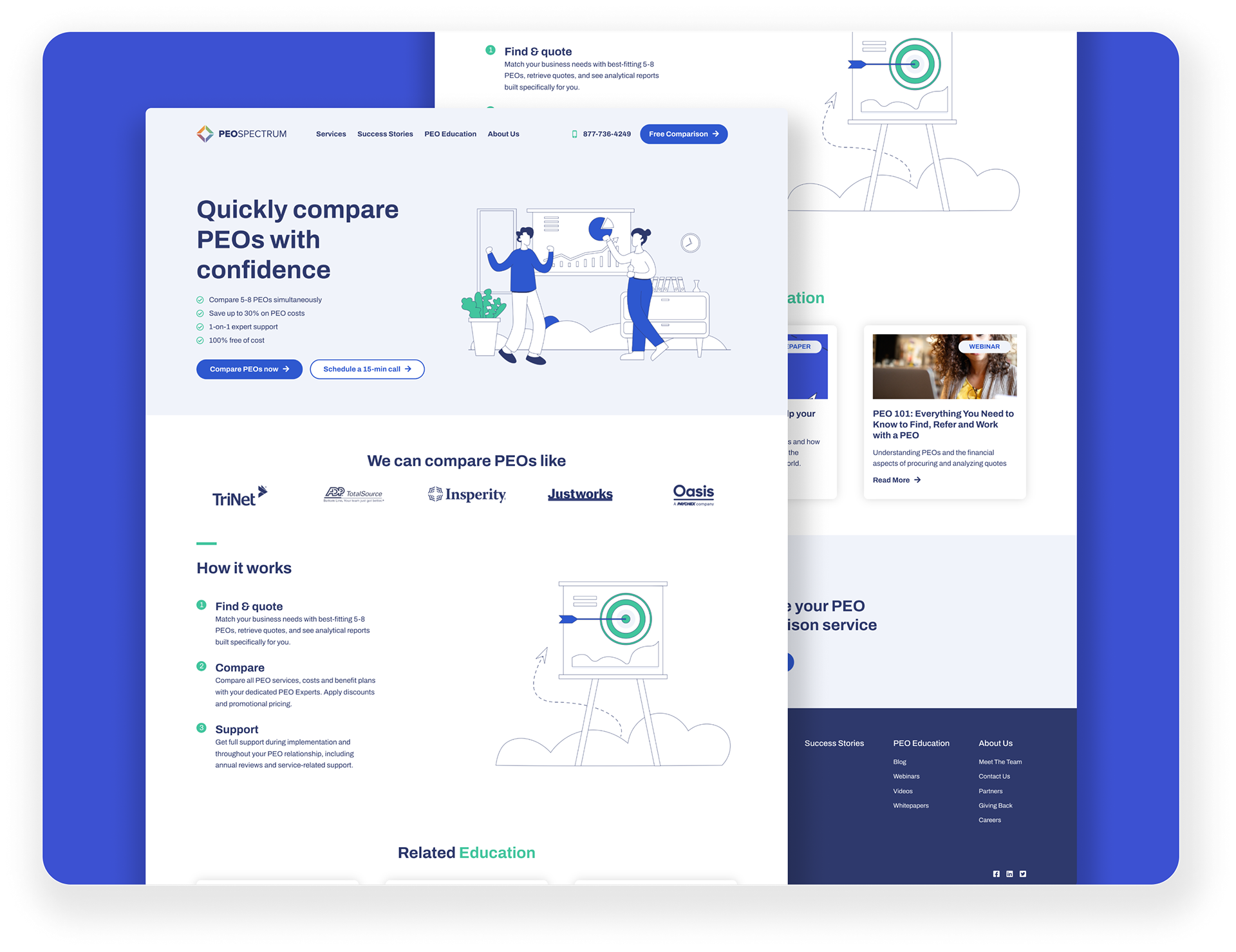 Website ReDesign, Brand-aid 
January 2020
Agency Credit: Digital Reach Agency
PEO Spectrum needed a fresh website to reignite its marketing efforts and improve overall usability. Their website was outdated, clunky, and lacked a cohesive identity. They weren't ready for a full re-brand, so we used their existing logo and build out a new look.
My role on this project consisted of developing a refreshed visual design system (we call this a "Brand-aid"), wireframing, and mocking up the new website.
The client wanted to expedite the "brandaid" and website process in order to meet their internal goals.
The client's budget was also quite limited so we would need to create templatized pages and components.
One of PEO Spectrums primary KPIs for their website redesign was to increase overall engagement and, of course, conversions. 
✨ Having a more flexible design system
One of the chief complaints we heard from the client was that their brand experience felt limited and outdated. One of their primary goals was to have a compelling new collection of style elements that could work well across different mediums, including future ad creative.
Moodboards
We started by establishing an overall style through a couple rounds of moodboards.
We landed on one with a strong white/grey base paired with electric pops of color.
Simplicity was the new name of the game for this bad boy. I took point on these, however, my design team offered plenty of helpful feedback and suggestions!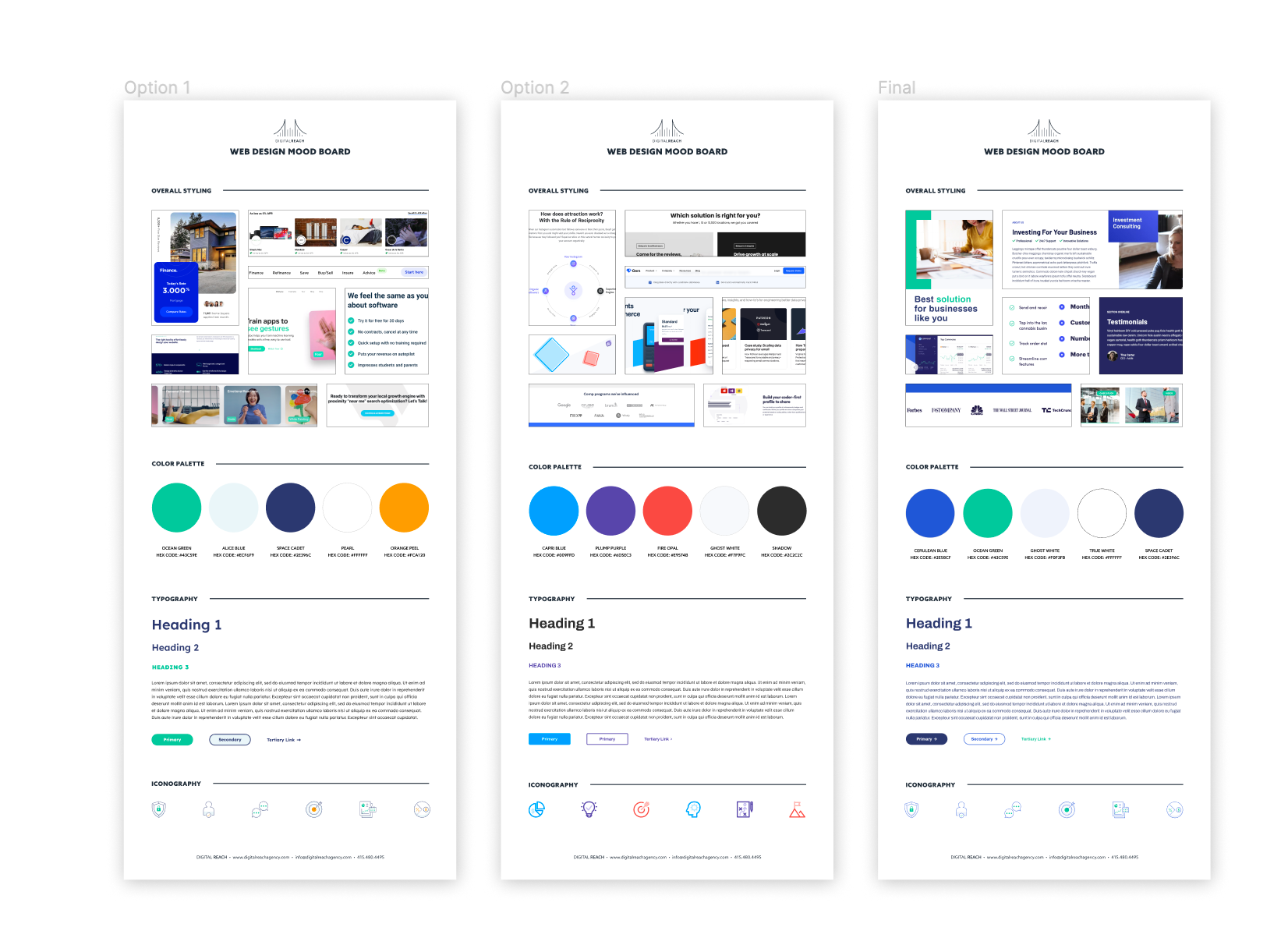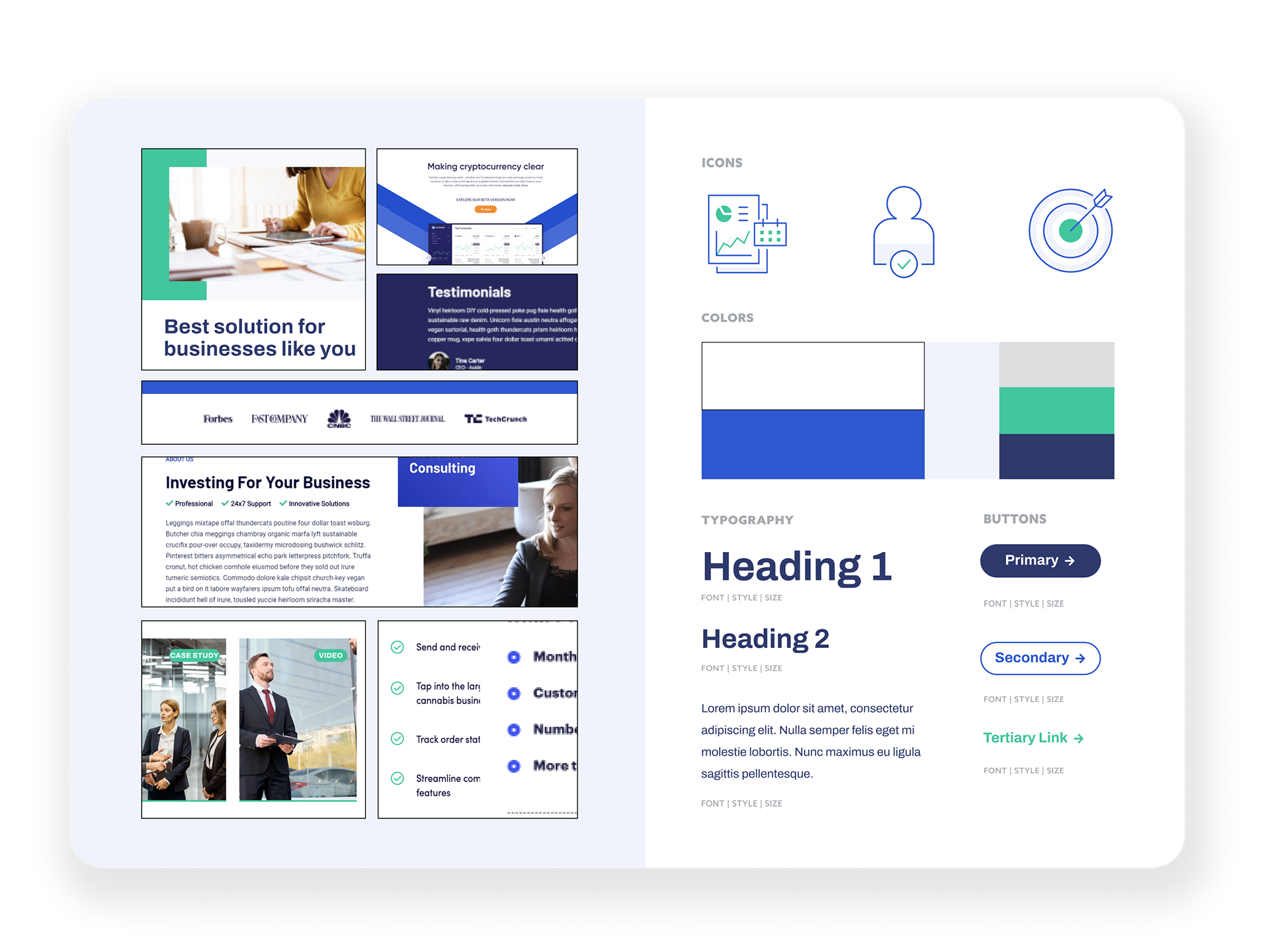 Wireframes + Mockups
Tool of choice: Figma
Number of pages: 25
This was quite a labor of love. Working in tandem with my fellow designer and the web dev team, I set out to create wireframes for the website that would drive conversions and encourage a more streamlined user journey. The web dev team was always there to advise if any mockup elements were potentially problematic to the scope of work. Go team!

Design System
Tool of choice: Figma
Includes: New color palette, custom icons, button styles, Illustrations, typography, container styling
📈 Increase in conversions
Post-launch, I met with the paid media team to see how the new website was performing. They reported a significant increase in conversions!
👁 Exciting new design system
The client was ecstatic to have a colorful, bold new design system from which countless campaigns could be grown. The custom illustrations and well-defined layouts made branding easy! 
Due to some delays in getting timely feedback from the client, additional scope requests, but also on our end with actual development, we weren't able to meet their exact timeline.
The client ended up wanting some additional pages added to their sitemap, which set us back significantly in time and hours allocated.